Many fans of computer games probably remember the game called Jurassic World Evolution. This work of Frontier Developments once allowed everyone to immerse themselves in the world of scary dinosaurs and learn more about their habits.
Although the game had many interesting features, including a variety of gameplay and the ability to start gladiatorial battles between dinosaurs, many players had some complaints about it. The developers listened to them and released an updated Jurassic World Evolution 2. And it really became a unique and favorite game among fans of the series!
Manage the Evolution Yourself
We all like stories about evolution, but many of us have little idea of how it really was. Now you can not only imagine the evolution but also manage it. Jurassic World Evolution 2 offers players a huge list of primal monsters to control and choose how they evolve. The main thing players need to do in the game is develop Jurassic Park and grow dinosaurs.
They have to improve the infrastructure of their facility, create suitable conditions for the normal development of animals, and do experiments and scientific research to make monsters even better. It is also important to monitor the economy of the town and attract visitors to the park who will enjoy the unique animals.
The game offers four different modes to choose from:
Campaign Mode. It includes a total of 7 scenarios where players have to build beautiful dinosaur parks across the US and attract visitors.
Sandbox. This is a simplified and faster version of the game, where the play-through takes about 30-40 minutes to complete.
Challenge. This is a more complex game mode that requires a lot of ingenuity from the players.
There is also the toughest game mode called Chaos Theory. It invites players to follow the plot of the movie of the same name and try to turn it to their advantage.
The game has many beautiful and large maps and a variety of different features to help players develop their dinosaur park.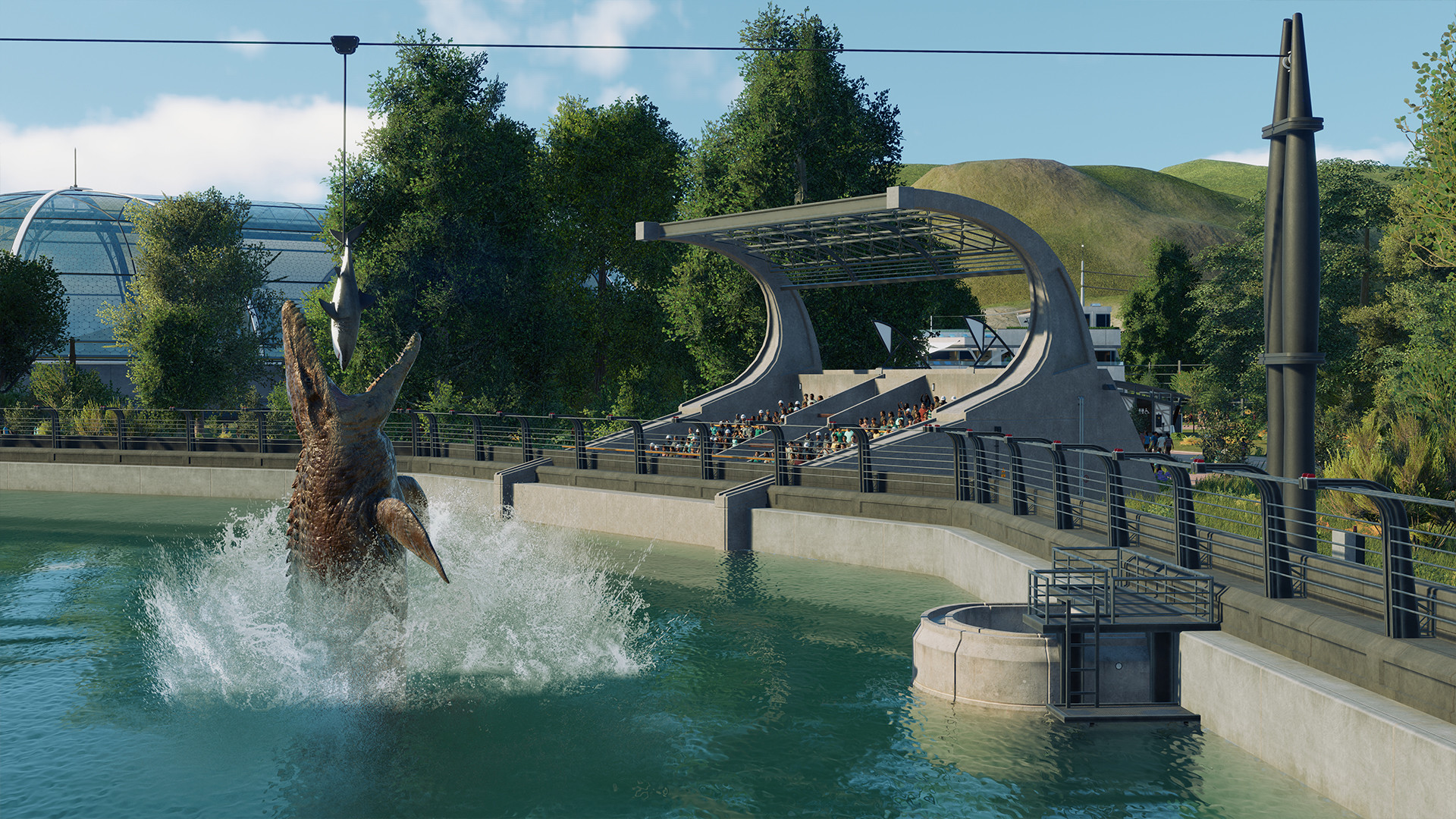 Things to Do in Jurassic World Evolution 2
The game is perfect for everyone who likes strategies, gradual development, and beautiful graphics. There are many things you need to do to succeed:
Upgrading your dinosaurs. Users can choose which dinosaurs they want to have, which ones they will show to guests, and which ones will participate in gladiatorial fights. There are a lot of options, but remember that there are also dangerous species that can carry risks for your business and visitors.
Development of the park's infrastructure. Gamers should get serious about the infrastructure of their facility: it should have bathrooms, restaurants, souvenir shops, and so on. If it doesn't, visitors will not come, and the business will fail.
Taking care of dinosaurs. It is important to do everything to keep the dinosaurs happy. In particular, you need to properly feed and walk them, as well as hire veterinarians and rangers to help you treat and train them.
Gamers will not get bored, as the game is very diverse. It is essential to take care of all the points mentioned. Otherwise, it will be difficult to complete any of the scenarios of the game.
Brief conclusion
The game has the following advantages:
The developers have retained all the advantages of the first part of the game.
The game has simply amazing dinosaurs: they are beautiful, big, powerful, and unpredictable.
All economic aspects of the game are realistic.
Among the disadvantages of the game, players mention rather short scenarios and a simplified economy. Jurassic World Evolution 2 is a worthy game for everyone who likes dinosaurs!